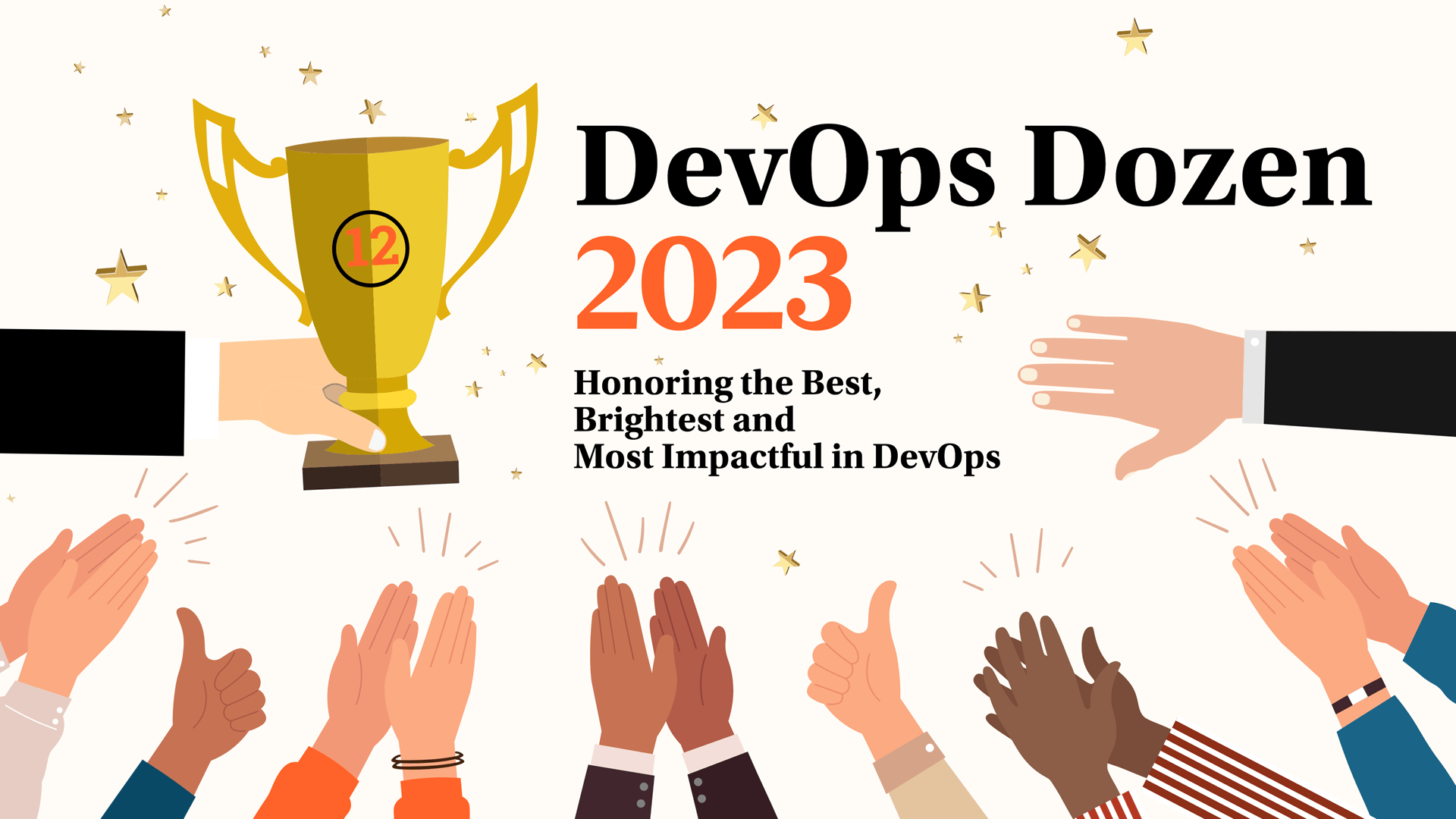 DevOps Dozen 2023 Nominations Are Now Open
The DevOps Dozen awards are back for their ninth year, and they are bigger and better than ever. The DevOps Dozen awards celebrate the best, brightest and most innovative individuals and teams in our industry. The DevOps Dozen awards program includes two different DevOps Dozen sections. The DevOps Dozen is now: The DevOps Dozen² (Squared). There are a dozen awards for each section this year:
DevOps Dozen Tools and Services Awards

— 12 awards recognizing the companies who develop and deliver outstanding solutions to empower developers, DevOps and IT operations teams.

DevOps Dozen Community Awards

— Closer to the original vision that we had with the DevOps Dozen when we instituted it 8 years ago, these 12 awards honor the leaders who have made a positive impact in the DevOps community
Nominees, Finalists & Winners
The way we conduct nominations, choose the finalists, and ultimately the winners, will work a bit differently this year. We will again use a two-step process to nominate, choose finalists and then select the winners in each of the 24 categories of the DevOps Dozen².
The nomination phase is open to the public to nominate candidates for the finals. However, it will work a little differently for the 12 Tools and Services Awards categories than it will for the Community Awards.

While anyone can nominate a tool or service for the final phase this year, there is a $250 fee for commercial tools and services to be nominated. This is meant to cut down on the spam and superfluous nominations we have received in the past, which bogs down the whole process. We are interested in serious tools/services in the DevOps space, not the kitchen sink. So nominate those tools and services that you think are deserving of the award, not everything you can think of. All valid nominations made in this section will make it to finals.

For the Community Awards, there is no fee to nominate for the finals. We will weed through the nominations and pick the finalists based on most nominations.

COMMERCIAL TOOLS/SERVICES ARE NOT ELIGIBLE FOR THE COMMUNITY AWARDS AND WILL NOT MAKE IT THROUGH TO THE FINALS.

Once finalists are announced, voting for the winners in all 24 categories will be open to the public. 

Winners will be chosen from among the finalists with general public voting being weighted for 40% of the final total and our judges selections for 60% of weighted total.

All vendors who nominate their solutions will also automatically be registered into the DevOps Tools Guide authored by Techstrong.

Finalists for this year's awards will receive a

badge

to display on their website and social media with a link to the voting/survey site. Additionally, Techstrong will recognize finalists via articles, video, interviews and other

media coverage

across the Techstrong network.

Winners will be announced at the

Predict 2024 Virtual Summit

and will receive both

digital and physical trophies and badges

celebrating their achievements. Each winner will be given a 3-minute segment to address the audience about their award. Additionally, all winners will be announced and highlighted via the Techstrong network.
Important Dates and Deadlines
Nominations for all categories via public vote or vendor registration shall open on September 18, 2023.
Nominations and voting for the first phase will close on October 20, 2023 at midnight PT.
Finalists will be announced and public voting begins on November 3, 2023.
Public voting ends/judges submissions due by December 31, 2023 at 5:00 p.m. ET

DevOps Dozen

²

winners will be announced at Predict 2024 on January 18, 2024.
The place for all things DevOps Dozen-related is and will remain, devopsdozen.com. For any information regarding entry process, awards, timing or any technical issues regarding the website, please contact us at dd@devops.com. 
Good luck and looking forward to a great DevOps Dozen² this year!
Alan Shimel
Editor-in-chief, Founder
Techstrong Group